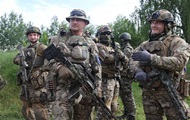 Western analysts believe that new calls from Russians to strengthen defense along the state border will not have a significant effect.
The military operation carried out by the RDK and the Legion of Freedom of Russia in the Belgorod region of the Russian Federation revealed serious shortcomings in the region's defense line. This is stated in the report of ISW analysts.
The head of the PIK Wagner, Yevgeny Prigozhin, once announced the construction of a fortification complex called the "Wagner Line" in the region.
In the end, he criticized the Russian bureaucracy for not supporting the construction of the line.
However, Russian authorities have spent, according to local governor Vyacheslav Gladkov, 10 billion rubles to defend the region.
New calls for increased defense along the Russian-Ukrainian border are unlikely to have a significant effect, experts add. In their opinion, the Russian troops are not correctly distributing forces that are best suited to support active offensive operations.
Analysts note that defense preparations in the Belgorod region could do little to prevent the May 22 raid.
The ISW believes that Prigozhin is taking advantage of the unrest in the information space to strengthen his influence in the country.
Recall that the commander of the RDK Denis White Rex noted on May 24 that the Russian Volunteer Corps and the Legion "Freedom of Russia" entered the Belgorod region of the Russian Federation 42 km deep, the most active phase of their actions is over, but the operation is still ongoing.
As you know, on Monday, May 22, the authorities of the Belgorod region of the Russian Federation announced that a "Ukrainian sabotage and reconnaissance group" had allegedly entered the border region of Graivoron. Fighting seems to have taken place in three villages. A counter-terrorist operation regime was operating in the region for about a day.
The Russian Volunteer Corps and Legion Liberty of Russia announced the start of an operation in the Belgorod region to liberate Russia from the regime of Vladimir Putin. Ukrainian intelligence noted that only Russians are operating on the territory of the Belgorod region, creating a "safety zone" to protect Ukrainians.

News from Perild.com in Telegram. Subscribe to our channel