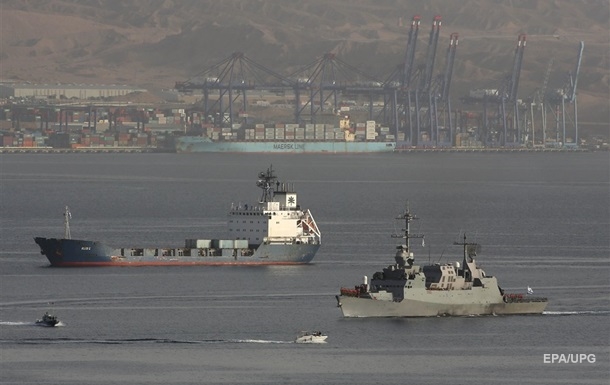 Photo of an Iranian ship (illustration)
Tehran has a direct supply route to Russia for weapons, and there is little that Western states can do to stop them.
Iran supplies Russia with Shahed drones and other munitions in large volumes. This is evidenced by the investigation of the CNN channel. In particular, the journalists spoke with experts who monitor the movement of maritime cargo and believe that it is through the Caspian Sea that a significant batch of kamikaze drones, mortar shells and other weapons that Tehran sells to the Kremlin for the war against Ukraine is moving.

"Perfect Environment"
Iran and Russia have been actively hiding the movement of ships in the Caspian Sea since September last year. This comes after the governments of the United States and Ukraine said that Moscow purchased the drones from Tehran last summer. At the same time, analysts believe that Kyiv's Western allies had little ability to stop such arms transfers.
"There is no risk to Iranian exports in the Caspian Sea because of the border countries – they have no ability or motive to prevent these types of exchanges," Martin Kelly, a leading intelligence analyst at security firm EOS Risk Group, told CNN.
Note that we are talking about Azerbaijan, Turkmenistan and Kazakhstan, which have ports in the Caspian Sea. It's "the perfect environment for this trade to go through without opposition," Kelly added.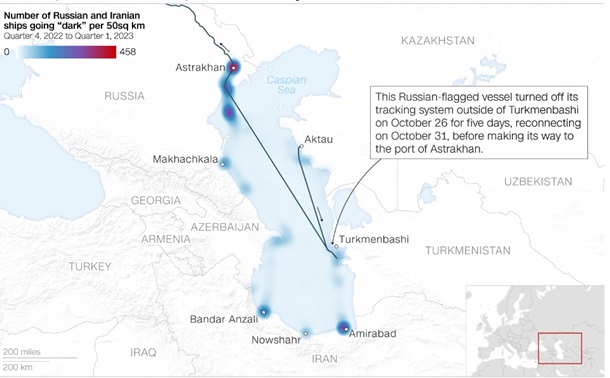 CNN
"The Caspian Sea is likely one of the main routes from Iran to Russia for attack drones and other support in connection with Western sanctions. Data on the movement of cargo ships suggests that cargo ships in the Caspian are increasingly turning off transponders (an automatic identification system that is adopted keep included under the Resolution of the International Maritime Organization – ed.), and this suggests that they have reasons for secrecy," the newspaper writes.
Between August and September 2022, there was a spike in the number of ships in the Caspian Sea turning off tracking data, Kelly said. According to Lloyd's List Intelligence, the number of ships turning off transponders remains high in 2023. The disappearance of signals is most often recorded near the Iranian ports of Bandar Amirabad and Anzali, as well as on the Russian Volga and the port of Astrakhan.
"CNN has tracked six Russian-flagged ships and two Iranian ones, which, according to analysts interviewed, are behaving suspiciously. ships turn off transmission on approach to Amirabad and Astrakhan, or move for a long time with transponders turned off," the report says.
"There is a correlation between Russia buying drones from Iran, port calls in the Caspian Sea and an increase in dark AIS activity," Kelly added.

Weapons "airmail"
Ukraine, its Western allies and security analysts also believe that Iran is sending weapons and ammunition to Russia by air. In particular, three Iranian state-owned airlines and "one ostensibly private" called Mahan Air delivered "shaheeds" and instructors to Moscow. However, in 2011, the US Treasury Department sanctioned Mahan Air for transporting weapons, fighter jets and supplies to the Iranian Quds Force.
Last year, the US Department of Commerce identified four Iranian cargo planes that flew to Russia in violation of US export controls, with US authorities linking the ships to "sending goods to Russia," including "military ones."
The journalists analyzed Flightradar24 tracking data, which showed that from May 2022 to March of this year, these four cargo planes made at least 85 flights to Russia.
"Although part of the Iranian Shahed could be brought to Russia by plane, the sea route is much more profitable, since it allows you to transport a much larger cargo at a time," CNN journalists summed up.

News from Perild.com in Telegram. Subscribe to our channel