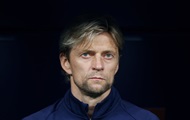 Thus, Tolik is trying to escape from Ukrainian sanctions.
Former Ukrainian national team player Anatoly Tymoshchuk tried to obtain Romanian citizenship, according to TSN.
Referring to the documents received by the editorial office, the publication claims that Tymoshchuk, a native Volhynian, submitted documents to the Romanian migration service, that he is actually from Bukovina.
Allegedly, he has a grandmother, a native Romanian. Although neither the ex-wife nor the neighbors of the ex-football player have ever heard of anything like that.
Probably, in this way, Tymoshchuk is trying to circumvent Ukrainian sanctions, he is denied entry into the country, and all his assets are frozen.
The reaction of the Romanian authorities is still unknown, but in Ukraine Anatoly is now also considered a criminal, because forging official documents is a crime.
Earlier, we recall, Tymoshchuk tried to protest the sanctions against him in the CAS.