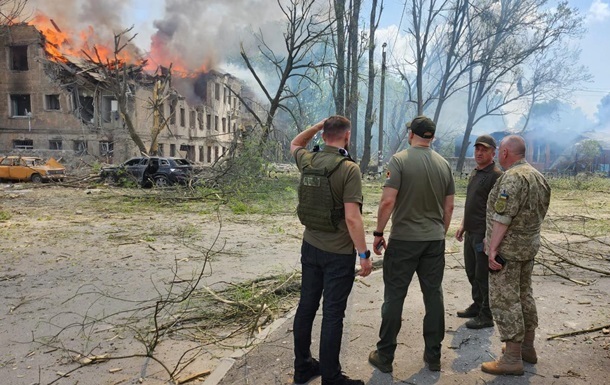 Photo: National Police
Russian missiles hit polyclinic and veterinary clinic
Russia attacked a medical facility in the Dnieper, there are casualties; In Kyiv, a judge knocked down a National Guardsman to death. Perild.com highlights the main events of yesterday.

Russia attacked a medical facility in the Dnieper, there are victims
Russian aggressors launched a missile attack on the Dnieper, hitting a polyclinic and a veterinary clinic. Two people died, another 30 were injured, including two children – boys aged 3 and 6. A residential quarter, a medical facility, a veterinary clinic and high-rise buildings around were damaged. Also, a missile strike destroyed a branch of one of the medical institutions, where psychiatric care was provided. A day of mourning has been declared in Dnipro.

In Kyiv, a judge knocked down a National Guardsman to death
On May 26, at about midnight, a judge driving a car ran over a serviceman of the National Guard of Ukraine. As a result of the accident, the National Guardsman died on the spot from his injuries. According to media reports, we are talking about the head of the Makarovsky District Court, Alexei Tandyr, who was driving while intoxicated. He is detained. In the car, the judges found a bottle of alcohol. He refused to conduct an examination of the state of intoxication in a health care institution. However, the court allowed the forced removal of biological samples. Then the DBR was informed that biological samples had been taken, and the judge was declared suspect.

Russian ship attacked by drones received serious damage – social networks
The Russian reconnaissance ship Ivan Khurs, attacked by naval drones, received serious damage to its hull and equipment. Apparently there are dead. This is reported by Russian TG channels. It is noted that the ship has two holes, its repair will take at least six months. The rescue ship of the Russian Navy transported the stricken ship to Novorossiysk.

Canada to hand over AIM-9 anti-aircraft missiles to Ukraine
Canadian Defense Minister Anita Anand announced that the country will provide Ukraine with 43 AIM-9 short-range air-to-air missiles from the Canadian Armed Forces stockpile free of charge. In addition, Canada is expanding its presence in Poland as part of Operation UNIFIER.

NATO wants to raise the status of Ukraine as a partner – media
NATO members intend to offer Ukraine an updated format of relations to show support for its application for membership, but there is no talk of concrete steps for Ukraine's entry into the alliance in the very near future. It is reported by Euracitiv. The publication notes that Ukraine's application to join NATO has so far remained unanswered, but may become the main topic of the Vilnius summit in July this year. Meanwhile, the idea of ​​raising Ukraine's status in NATO is gaining support.

The media learned about the Chinese offer to Europe
Chinese Special Representative for Eurasian Affairs Li Hui, during his tour of Europe, proposed leaving the temporarily occupied territories of Ukraine under Russian control. On Friday, May 26, reports The Wall Street Journal, citing sources. Li Hui is said to have conveyed a clear message that "US allies in Europe must assert their autonomy and demand an immediate ceasefire in Ukraine, leaving Russia with those parts of its younger neighbor that it now occupies." In turn, the EU representatives noted that they do not support the freezing of the war, and told the PRC envoy that "it is impossible to separate Europe from America and that Europe will not refuse to support Ukraine."

The European gas market continues to collapse in prices, they may fall below zero
Gas prices in Europe continue to fall on the last business day of the week. The cost of June futures at the TTF hub in the Netherlands fell to $280 per 1,000 cubic meters. m, or below 25 EUR/MWh (based on the current EUR/USD exchange rate, ICE prices are EUR/MWh). This is the lowest price level since May 2021, when Russia first began cutting energy supplies to Europe ahead of its invasion of Ukraine. According to Bloomberg, European short-term natural gas prices could briefly fall below zero this summer if demand does not catch up with supply.

Ukrainian Navy received a new armored boat
The Ukrainian army received at its disposal a small armored artillery boat Bucha. It will be part of the river flotilla, created last year in the Kyiv region. Vice Admiral Alexei Neizhpapa, Commander of the Navy of the Armed Forces of Ukraine, noted that the river fleet is a requirement of the present time, and now there are two divisions of armored boats on the Dnieper.

News from Perild.com in Telegram. Subscribe to our channel