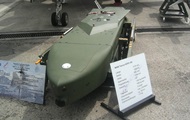 The German Ministry of Defense announced an official request from Kyiv regarding the German analogue of the Storm Shadow missiles.
Ukraine turned to Germany with an official request, in which it asks to provide it with Taurus cruise missiles. This was announced on Friday, May 26, by a representative of the German Ministry of Defense, Spiegel reports.
According to the Frankfurter Allgemeine Sonntagszeitung, Ukrainian President Volodymyr Zelensky and German Chancellor Olaf Scholz spoke about the supply of missiles in early May.
On May 23, a Bundestag deputy from the opposition Christian Democratic Union, retired Bundeswehr colonel Roderich Kizewetter, called for the transfer of German long-range Taurus cruise missiles to Ukraine.

The Taurus cruise missile is launched from a fighter jet and can deliver a 400-kilogram warhead over 500 kilometers. The missile is considered an effective weapon against hardened targets such as command bunkers or ammunition depots. Taurus is the German equivalent of the English Storm Shadow.

News from Perild.com in Telegram. Subscribe to our channel