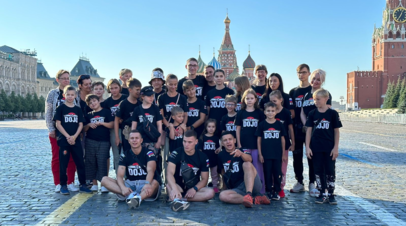 The inclusive martial arts club DOJO No. 1 took children with physical and mental disabilities from the Donbass to Yekaterinburg for sports camps. According to the organizers of the trip, they pursued two goals: to provide children with a respite from the stress in which they have been living for the past nine years, and to provide an opportunity to communicate with peers. Details – in the material RT.
Tall, under two meters tall, Bogdan is 13 years old. He spent his whole life in Donetsk and left home only for treatment at the regional hospital – he has a number of serious health problems. The guy is in Moscow for the first time: he has already managed to see Red Square, visit the zoo, ride the subway. It can be seen that he liked the capital – a smile does not leave his face.
The next stop is Yekaterinburg. There, Bogdan and other children from Donetsk and Makeevka, including those with special needs, will take part in sports camps organized by the inclusive martial arts club DOJO No. 1.
"Although there were some doubts, we decided to go," says Alexander, Bogdan's father. What's the point of having him sit at home all the time? I want my son to look at life, see other cities, develop. And so that everything goes without unpleasant surprises, I always have a blood pressure monitor and the pills that he takes with me in my bag.
A separate training program has been developed for Bogdan at the training camp, Alexander continues: "They won't give big loads, the main thing is that he, along with the guys, should feel like a team. For him, this is a big breakthrough. Usually the son sits at home, there is no communication with peers. In Donetsk, a child with special needs has practically nowhere to go, it is even dangerous to let children go into the yard. It's good that they finally paid attention to us, began to work with our children."
"Understood how to help"
The organizer of the trip, the head of DOJO No. 1, Marcel Mansurov, has been working with the guys from Donbass since last year, when a special military operation began. "My friend and I just went to Donetsk to see on the spot how we can help. We randomly went to the school, met the director, and he, in turn, brought me to Victoria, the mother of a special child, "he recalls. – The child is 10 years old, eight of them fell on the war, consider that you have not seen a peaceful sky, the family lives in constant stress. Then I simply invited them to visit me in Yekaterinburg. They lived with me, went on excursions, training.
When Victoria returned to Donetsk, she told her friends about the trip. "Fate brought me together with such people, and I realized how I can help them," Marcel continues. "But we couldn't take everyone to the training camp at our own expense, so we applied for a presidential grant. It was quickly approved."
On the eve of the departure of the children, Mansurov once again visited Donetsk, met his parents, and held a master class in martial arts. "Many at first hesitated whether to let the children go with strangers. In general, I noticed that they are a little wary of "big Russia". My task was, among other things, to show that people like them live here who want to help," he says.
Marseille's mission of "winning over" turned out to be so well done that the trip went over budget. "The estimate included 16 people, and as a result, the group grew to 30 participants," says Mansurov. The difference was paid from the club's funds and sponsorship.
"Quiet Moscow"
Another unplanned expense item is a stopover in Moscow. "It was planned to arrive immediately to Yekaterinburg, but we decided to split the road into two parts and make a detour through Moscow. Firstly, it is hard for children to travel so much, and secondly, I think that they should see the capital. The guys are at home almost all the time, and here they have so many impressions – and Red Square, and the zoo, and VDNKh, "the head of the inclusive martial arts club lists.
Taking into account the peculiarities of the children, the coaches and attendants tried to make the stay in the capital comfortable, so that no one was tired or overexcited. "From the very beginning, we have built a strict discipline so that no one runs away, does not play pranks. The main movement takes place by bus, but the children themselves asked to go down to the metro, because they had never seen it, they even rode the tram for the first time, "says Marcel.
Both children and parents in a conversation with RT mention how calm Moscow is compared to Donetsk and Makeevka. "We live in an area where the fighting is close, there has been a lot of damage lately. Every night you wake up from explosions and think, is it far or not, is it time to hide, "Alexander shares.
"I was surprised how quiet everything is here, there are constant arrivals in Donetsk," says mother of two children Yulia. "Our children already know how to behave during shelling, they run out into the corridor. This trip was a real break for us."
The shelling of the Armed Forces of Ukraine has already become something familiar for many residents of Donbass. But they do not completely exclude ordinary life, Yulia adds: "When there are no" bahs ", we calmly go about our daily business, try not to lose heart. But there is almost nowhere to take children, for example: schools are "remote", kindergartens do not work, leisure centers are closed. It turns out that children do not have the experience of communication as such – they do not know how to make friends, resolve conflicts, share. There are no elementary skills that are learned in kindergarten. It's great that we went and the children will be able to be among their peers."
After Moscow, the group arrived in Yekaterinburg, where the training camp is taking place. Everyone trains together – children with special needs, normotypical, adults, residents of the Donbass and the Urals. Marcel Mansurov explains: through joint activities, everyone gets to know and learn to understand each other, this is the club's approach.
"We have professional fighters, and promising juniors who win at the amateur level, and mass sports, and groups with special children," he says. – I bring students to real life, so that they do not sit under their mother's skirt, but live in society, can be friends with ordinary children, stand up for themselves, build personal relationships, and work. In turn, healthy children learn to communicate with special peers. They did not treat them with pity or fear, but perceived them as people. We bring this philosophy to the world: to accept each other, regardless of our physical data, financial capabilities, in which region we live or what faith we adhere to.
"People with autism are cool"
As Marcel Mansurov recalls, he started working with special children by accident. Eight years ago, the mother of a child with autism spectrum disorder (ASD) approached him and asked him to take the boy to the martial arts section.
"I have not come across such students before, but I could not stay away. From scratch, I learned to understand the child, selected the program. Then more children with ASD appeared, trained side by side with ordinary children, who also learned to accept them, "he says.
According to Mansurov, the whole society is gradually changing in this way: "For example, one of my first students, Grisha, is already a physically developed teenager, and I am pleased that he himself has become a conductor of inclusion in society. He is a leader in his company, and he himself explains to his friends that people with autism are cool. You don't have to be afraid of them, you have to be friends with them."
Since then, he has taken a number of courses on working with autism, trained new trainers and, based on his methodology, develops inclusive martial arts in Russia. "We strive to teach children to be aware of their responsibility and direct their power in a creative direction, in support or self-defense. So they learn to splash out aggression within the allotted limits. For example, one of my first students with autism, when he felt uncomfortable, began to choke those around him. In the course of training, we were able to correct the behavior, he doesn't do that anymore, "says the head of the martial arts club.
Marcel plans to turn the club into a full-fledged network, as well as continue to help the children of Donbass. "We want to continue to bring children to our camps, and not thirty people, but hundreds and even thousands. We have exercise therapy specialists, coaches, psychologists – we can assemble a large team, "Mansurov shares with RT. — We also want to open a branch in Donetsk. Not just to take the children out of the bombings for a while, but so that they can fully engage and communicate all the time."