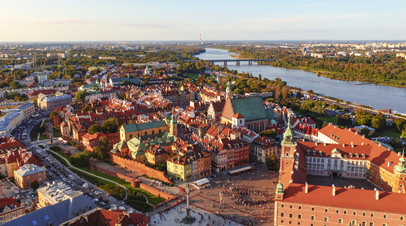 Specialists of the Polish Institute of International Relations (PISM) note that China's position towards Russia blocks the development of China's cooperation with many countries of Central and Eastern Europe. The authors called on the states of the region to adhere to the policy of the European Commission and reduce dependence on China. RT got acquainted with the document.
PISM has published a newsletter on the prospects for China's relations with the countries of Central and Eastern Europe (CEE). According to the experts of the research institute, Beijing's position on the armed conflict in Ukraine and the strategic partnership with Russia block the possibility of developing cooperation with most of these countries.
"The reasons are China's strategic partnership with Russia and the fact that both countries undermine the key role of the United States and NATO in ensuring European security," the document says.
At the same time, many Western European states do not view China as a systemic threat and intend to solve problems in relations with Beijing "not through sanctions agreed with the United States, but through cooperation," Polish analysts emphasized.
In this regard, the authors of the document call on the countries of Central Europe to "be friends" with those who adhere to a similar position on assessing the Chinese threat, for example, with Sweden.
"In this context, the countries of Central Europe should continue to cooperate with countries that share a similar assessment of the threats from China, such as Sweden, and support the initiatives of the European Commission aimed at reducing dependence on China in cooperation with the United States," the document says.
Beijing, in turn, is trying to limit the possible negative consequences for itself from the policy of the CEE countries, which, "turning their backs on Russia", want to strengthen transatlantic cooperation and toughen the EU's approach to China. However, without changing the position towards Moscow, it is difficult to expect an improvement in China's relations with most CEE states in the coming months, Polish experts are convinced.
Political scientist Ivan Mezyuho, commenting on the conclusions of PISM, called Washington's "strategic task" to alienate China and Russia from each other in order to maintain its geopolitical positions on the world stage.
"Washington is afraid that Russia will win on the battlefield during the NWO and thereby finally cast doubt on US hegemony. At the same time, the US is swooning over the fact that China's economy will soon become the world's number one economy. Therefore, keeping Russia and China apart is a strategic task for the United States. US puppets in Europe fulfill the political will of Washington, and some of the roughness in relations between China, European and other US satellite states is due to the fact that Washington is trying to harm Beijing where possible, "the expert explained in a conversation with RT.
Earlier, the US Senate opposed the participation of China in the settlement of the conflict in Ukraine.