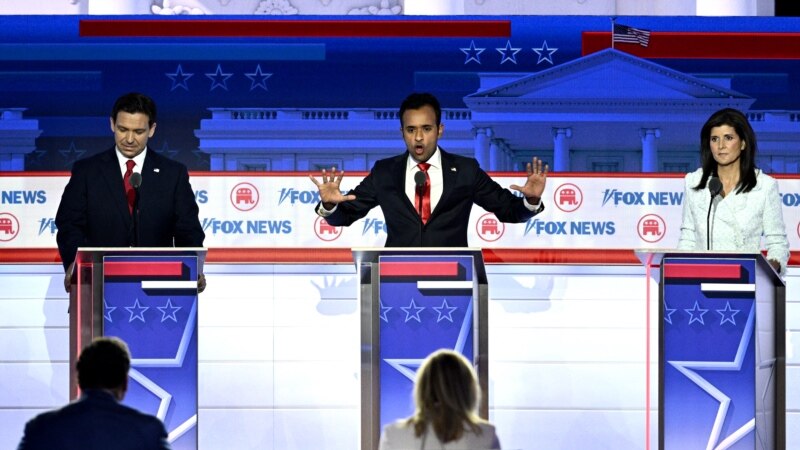 Wednesday night in Milwaukee, Wisconsin hosted the first debate of US presidential candidates from the Republican Party. 8 candidates participated in the debate. Former US President Donald Trump, who is leading so far, according to polls of the Republican electorate, refused to participate in the debate in the fight for the nomination.
Although Donald Trump did not participate in the debate, the actions of the former president after losing the 2020 presidential election became one of the main topics of debate. Only two candidates rated his actions sharply negatively – former New Jersey Governor Chris Christie and former Arkansas Governor Asa Hutchison. "We need to break up with the man who said that the Constitution should be suspended in order to advance his political career," Chris Christie declared. Florida Gov. Ron DeSantis, the second most popular Republican candidate behind Trump, tried to avoid direct criticism of Donald Trump by urging Republicans to look to the future, only later adding the phrase that former vice president and current presidential candidate Mike Pence fulfilled his duties, not succumbing to the call of Donald Trump not to approve the results of the presidential elections during their certification by Congress.
One of the highlights of the debate was an exchange of views on aid to Ukraine between businessman Vivek Ramaswamy and former US Ambassador to the UN Nikki Haley. Asked if he supports increasing military and other support for Ukraine, Ramaswamy said that he was not only against it, but also called such an approach "catastrophic." "We must use resources to defend against an invasion on our southern border," Ramaswamy said, referring to the border with Mexico and the flow of migrants. "Ukraine is not a priority for the United States." Nikki Haley immediately retorted these statements: "We must know that Ukraine is our front line of defense." Haley criticized Ramaswani sharply, accusing him of a complete lack of foreign policy experience and a lack of understanding of the US role in the world. "He wants to give Ukraine to Russia, he wants to let China into Taiwan, he wants to stop supporting Israel," Haley warned voters.
The candidates also discussed the economic situation in the country, spoke about the attitude towards abortion and the problem of global warming.
Donald Trump, who declined to participate in the debate, gave an interview to former Foxnews anchor Tucker Carlson that focused mainly on criticism of President Joe Biden.