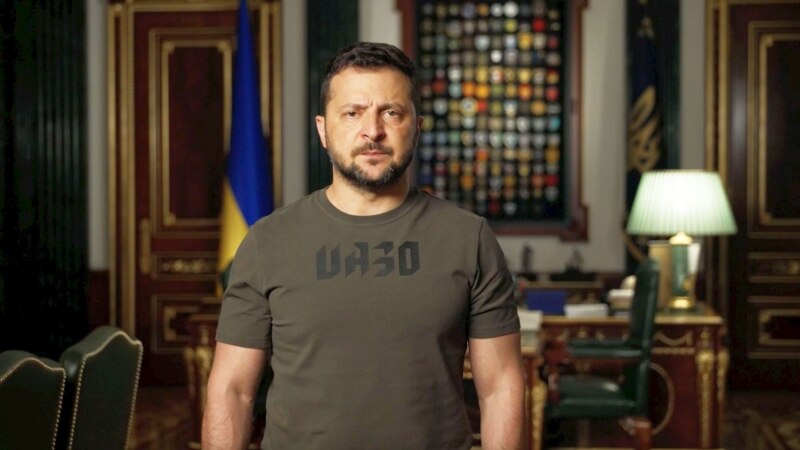 President of Ukraine Volodymyr Zelensky believes that Ukraine's victory in the war with Russia will lead to the restoration of the territorial integrity of Georgia and Moldova, as well as to democratic changes in Belarus. He expressed this opinion in an interview shown on the air of the Ukrainian telethon to journalist Natalia Moseychuk.
Asked what kind of victory he imagines, Zelensky said that it should exclude the possibility of a repeat of the war.
The President of Ukraine insists on restoring the territorial integrity of the country within its 1991 borders. At the same time, according to Zelensky, if the Ukrainian army reaches the administrative border with Crimea, then it will be possible, as he put it, "to politically finish the demilitarization of Russia on the territory of the peninsula."
At the same time, Zelensky was skeptical about the possibility of transferring hostilities to Russian territory. "There is a big risk that we will be left alone," he said, referring to the demands of Western partners not to strike Russian territory with Western weapons.
The President of Ukraine stressed that the country is ready to fight "for a long time" if necessary in order to minimize losses. At the same time, Zelensky expressed the opinion that Ukraine could become a European leader in the field of military technology.
Zelensky also called for corruption to be equated with high treason during martial law. He stressed that he does not call for the execution of corrupt officials, but seeks to ensure that they are behind bars.
In June, the long-awaited offensive of the Ukrainian army began in the south of the country. In two and a half months of stubborn fighting, the Ukrainian military has moved forward in a number of areas, however, according to estimates, they have not yet breached the Russian defense line. The offensive continues, its goals reportedly remaining the same – to cut the so-called land corridor from Russia to the annexed Crimea. Kiev does not exclude that Crimea can be liberated by military means, and at the same time they note that a diplomatic solution is also possible, that is, Russia's voluntary return of Crimea under Ukrainian control.