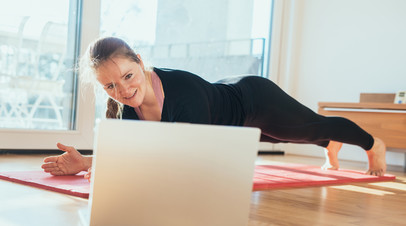 The press service of the National Technology Initiative (NTI) told RT about the development of a platform for maintaining health and playing sports. It is expected that it will replace trips to the coach, accelerate the achievement of the desired result, and also save money. The project was presented at the accelerator at the project-educational intensive "Archipelago 2023".
As Evgeny Korolyuk, co-founder of the project, explained in an interview with RT, the user logs in to the system, and recommendations, nutrition and training plans are formed depending on his performance.
"Also, a person can go to the clinic and take tests, and their results will appear in the system," he added.
It is noted that, unlike other similar platforms, the system is based on both the work of simulators and medical measurements: the composition of the human body, pressure, heartbeat, contraindications and recommendations of doctors, and much more.
According to Korolyuk, the platform acts as a professional coach, choosing an individual proper nutrition, training program and lifestyle recommendations so that the user achieves the desired result.
"Unlike a conventional trainer, such a system monitors the state of the body, the user's lifestyle around the clock – it analyzes the state before, during and after training, records the recovery time after exercise, monitors well-being and performance throughout the day. Also, the platform automatically changes the individual nutrition and training plan after any changes in health or body condition, "explained the interlocutor of RT.
It is emphasized that the cost of such services will be several times lower than the payment for the work of a personal trainer and nutritionist.
"If with a coach or independently a person can achieve the desired result in two or three years, then our system will reduce this time to a year and a half. This is achieved due to the fact that the platform is impartial and does not allow the user or trainer to cheat, and also shows the real state of the body, "explained Korolyuk.
Among the prospects is the involvement of medical workers who will check the general health of a person in a polyclinic every few weeks.
"At the moment, the project is under active development, piloting the platform is scheduled for the end of 2023. In the second half of 2024, the developers expect to introduce the work of partner gyms into the system – the measurement of medical indicators before and after training, "the specialist concluded.
Earlier, the press service of the Ministry of Digital Development of RT spoke about the creation of the State Personnel platform at Gostech, which will help in finding job candidates.