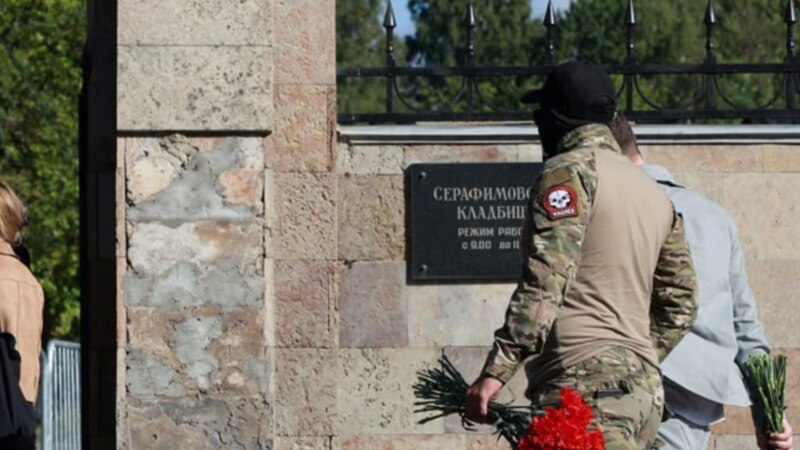 At the Serafimovsky cemetery in St. Petersburg, preparations are being made for the funeral of Yevgeny Prigozhin, probably the founder of the Wagner PMC: the police are intensively patrolling the interior of the cemetery and the streets adjacent to it, and asphalt is being washed near the burial places. It is reported by "Fontanka".
At each corner of the cemetery, according to the journalists of the publication, funeral tents are installed. At the same time, as Fontanka was informed in the temple, located on the territory of the Serafimovsky cemetery, there will be no funeral service for the dead today.
The telegram channel "Paper" announced the blocking of the passage along Bogatyrsky Prospekt in the direction of the Serafimovsky cemetery. Vehicles of various law enforcement agencies are on duty at the entrances to the cemetery, and police officers are standing at the entrance to the cemetery.
A day earlier, metal detector frames were installed in front of the central gate of the Serafimovsky cemetery. In addition to this cemetery, as Fontanka wrote, three more are being prepared for burial: Bogoslovskoye, Severnoye and Smolenskoye. "However, so many obvious preparations, like those of Serafimovsky, have not been seen in these graveyards," the publication notes.
Where exactly Prigozhin will be buried is not known even in the administration of St. Petersburg. A source in the mayor's office told Fontanka that "involved (in the organization of the funeral) on a subscription (non-disclosure)". "Everything is classified. They don't put us in the know," the source said.
At the same time, Russian presidential spokesman Dmitry Peskov said that Vladimir Putin would not attend Prigozhin's funeral. He also noted that the Kremlin does not have specific information on the funeral.
The Investigative Committee of Russia announced over the weekend that the examination confirmed the death of the founders of PMC "Wagner" Yevgeny Prigozhin and Dmitry Utkin in a plane crash in the Tver region. The plane belonging to Yevgeny Prigozhin crashed on the evening of August 23. The cause of the crash has not yet been officially announced.
Improvised memorials have already been created in several cities of Russia in memory of the deceased founder of PMC Wagner. But at the same time, he will most likely be buried secretly and without the permission of the general public. Putin's spokesman Dmitry Peskov indirectly confirmed this on Monday, saying: "I don't have any information about the funeral yet. Such decisions are always made together with relatives and are primarily based on the decision of relatives."