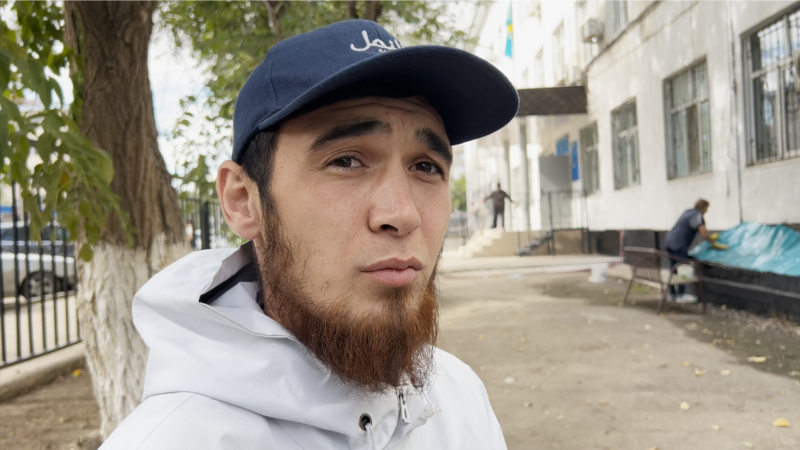 A court in Aktobe partially satisfied the claim of local resident Aslanbek Omarov, who was detained and tortured by security forces during the January protests in 2022, recovering 3 million tenge ($6.5 thousand) in his favor as compensation for moral damage. This was reported by the Kazakh service of Radio Liberty (Radio Azattyk).
In addition to compensation for the moral damage caused to Omarov, the court ruled to recover 500 thousand tenge ($1.1 thousand) in his favor as expenses for a lawyer.
Omarov himself, in a commentary to Radio Azattyk, stated that he was dissatisfied with the amount of compensation appointed by the court. The plaintiff demanded compensation for moral damage in the amount of 30 million tenge ($65 thousand), and another 10 million tenge ($21.7 thousand) for material damage. At the same time, he decided not to dispute the amount of compensation, considering it a victory that the state admitted its guilt in the harm caused to him.
Security forces detained Omarov in January 2022. During his arrest, the man was beaten and, according to him, tortured. Then the court arrested Omarov for four months, after which he changed the preventive measure from detention in a pre-trial detention center to house arrest with a written undertaking not to leave. The man was charged with organizing mass riots and participating in them, but the investigation could not prove Omarov's guilt.
At the beginning of February 2023, the court acquitted Omarov.
Mass protests in Kazakhstan began on January 4, 2022 with rallies against rising gas prices, then they turned into mass actions demanding the resignation of the authorities and the demolition of monuments to Nazarbayev, and ended on January 7, 2022 with riots in Almaty, Kostanay and other large cities, as well as the introduction of CSTO troops and the shutdown of the Internet in the country. According to official figures, 238 people died during the January protests and riots, including six as a result of torture after detention. Several thousand people were detained, hundreds reported being tortured, but most of the criminal cases initiated on complaints of ill-treatment were dropped.
In Aktobe, two people died as a result of the protests. Ruslanbek Zhubanazarov, 30, was shot dead on January 7, Faizulla Nurgeldin disappeared on January 5. Relatives found him after 11 pm in the emergency hospital with a head wound. He underwent surgery and was then discharged. He died in early March last year.