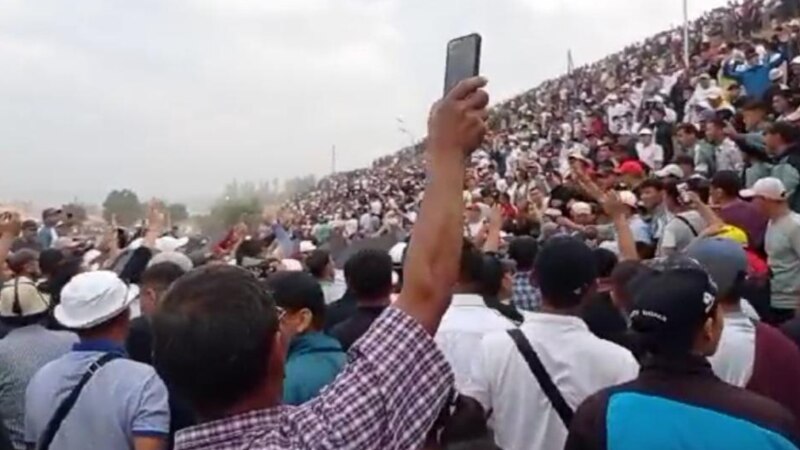 In the city of Osh, during the final of the Presidential Kok-Boru Cup, riots occurred, about 100 people were injured, and 25 people were taken to the police.
The final of the President's Kok-Boru Cup, dedicated to Independence Day, took place on August 31. Videos appeared on social networks the night before showing a group of people running towards the field of the Toloikon racetrack, where the match was taking place. Eyewitnesses claim that fans dissatisfied with the result of the game beat the referee.
The Ministry of Health reported almost 100 casualties. "During the riots, a law enforcement officer was beaten, he is in the Osh City Clinical Hospital. In addition, there are those who were injured due to the fact that people threw stones at each other. First aid stations were opened in two tents near the site of the games, where a total of about 100 people turned for help," department press secretary Zhyldyz Aigerchinova told the Kyrgyz service of Radio Liberty.
The driver of the ambulance was also injured. One of the players fell from his horse during the match and received a concussion; he was taken to the hospital.
Chairman of the State Committee for National Security Kamchybek Tashiev said that law enforcement agencies have begun an investigation into the incident. He warned that those who try to incite inter-regional hatred in such a situation will be punished.
25 people were taken to the Osh region police department. Investigative and operational explanatory work is being carried out. If circumstances related to violation of public order and provocations are established, they will be held accountable in accordance with the law, the press service of the regional internal affairs department reported.
Goat rules. Will Kyrgyzstan give up the gates in the kok-boru horse game?