Daniil Medvedev broke the resistance of Andrei Rublev in the quarterfinals of the US Open tennis championship. In each of the games, the third racket of the world lost to his compatriot, but then invariably made a reverse break, and then put the squeeze on his opponent. Neither 40 unforced errors, nine double faults, nor five lost games on his serve prevented him from scoring another victory. In turn, Vera Zvonareva, performing together with Laura Siegemund, made it to the semifinals of the US Open in women's doubles. In the confrontation with Victoria Azarenka and Beatrice Haddad-Maya, the Russian-German duo lost the first set, but managed to restore parity, and in the third game they did not allow their opponents to succeed even once.
Another defeat for Rublev
Among the current representatives of the top ten of the ATP rankings, only three tennis players have never reached the semifinals of a Grand Slam tournament. But if Holger Rune reached the TBS quarterfinals only three times, and Taylor Fritz only twice, then Andrei Rublev has already hit this wall eight times. And most often at the US Open. In 2017, he entered the top eight at a major for the first time, but lost to Rafael Nadal, and subsequently lost to Daniil Medvedev and Francis Tiafoe. And each time in three sets.
This time he again had to measure his strength with his compatriot, however, he did not look as menacing as three years ago. Then Medvedev tore through all his opponents on the way to the quarterfinals, but here at times he allowed himself a little relaxation – he "gave" one set to Christopher O'Connell, and started the meeting with Alex de Minaur weakly. And on paper, this gave Rublev's fans hope, if not for a historic passage to the next stage, then at least for winning a separate segment.
Also on topic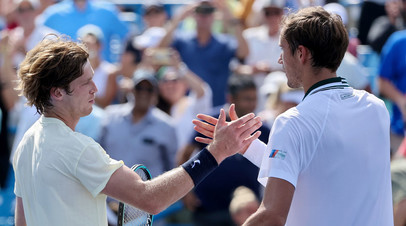 Forget about friendship and statistics: can Rublev defeat Medvedev for the first time at a Grand Slam tournament
Daniil Medvedev and Andrey Rublev will go head to head in the quarterfinals of the US Open on Wednesday. Tennis players have been friends for a long time, and…
At first it seemed that Rublev would finally break this unsuccessful streak. He took the first two games to zero, and in the third he was weaker in only one play. But suddenly he swam. Medvedev quickly restored parity, and then made a break for the second time, infuriating his opponent. He began arguing with the judge, collecting unforced errors, and in the end of the game he turned out to be uncompetitive.
And when Rublev gave his serve again in the very opening of the second set, it became completely alarming for him. He continued to be nervous, and he clearly didn't feel his best. Perhaps the reason for this was the heat established in New York, which literally drained the strength from the athletes. It is all the more surprising that Medvedev was the first to consult a doctor. But after consulting a doctor, he continued to fight.
By this point, Daniil was leading 4:3, having pulled off almost the same trick as in the previous set. He again gave away two games on his serve, but did not even allow Andrey to enjoy this success and quickly regained the initiative. Rublev acted selflessly and tried to constantly attack, but his compatriot's impenetrable defense and his own problems with the backhand prevented him from establishing control over the match. If he had been a little more stable when performing this element, the reverse breaks might not have happened. And his attack at the net was extremely unstable. As a result, Medvedev turned on again when it was most needed and put the finishing touches on his opponent. Even four doubles in a set didn't hurt.
Rublev needed a miracle. During his career, he won only one match out of 18, if he lost in the first two games, and there were no prerequisites for a heroic comeback. Before the third set, Andrei even changed his dark T-shirt to a light one and continued to fight with Medvedev, who was pulling everything out. He was excellent in defense and at times did the impossible on the back line, driving the opponent into a frenzy.
And although the third game turned out to be the most stubborn, it went according to approximately the same scenario. Rublev again led twice with a break, but allowed Medvedev not only to reverse, but also to take the lead. But even though Andrei was defeated again with a "dry" score in games, he finally reminded of his unbending character. In the tenth game, which stretched over a quarter of an hour, he prevented Daniil from converting four match points. Being in a desperate situation, he either gave an ace, or brilliantly dribbled past an opponent rushing to the net, or forced him to miss during a long rally. But still I couldn't hold on indefinitely. Two consecutive forehand errors summed up his performance at the US Open. The third racket of the planet was stronger again – 6:4, 6:3, 6:4.
Successes of Zvonareva and Guryeva
On the eve of her 39th birthday, Vera Zvonareva had the opportunity to get closer to winning the third TBS title in pairs. Together with Laura Siegemund, they reached the quarterfinals and repeated their best result this season. At Wimbledon they also reached this stage, but there they capitulated in the battle with Marie Bouzkova and Sara Sorribes-Tormo.
And this time an equally difficult test awaited them. Victoria Azarenka and Beatrice Haddad-Maya stood in their way. Up to this point, the Belarusian-Brazilian duo had not lost a single game at the US Open, and even overcame the second round barrier without a fight. Fourth seeds Desiree Krawczyk and Demi Shours withdrew from the match and gave their opponents a ticket to the next round. Thus, they spent much less energy, which could be a serious help for them in a duel with a Russian woman and a German woman.
However, in the first set Zvonareva and Siegemund looked no worse, and in many respects even better. With an equal number of unforced errors and actively won goals, they accumulated more (17 – 12), and on the first serve they acted much more confidently. But on the second we experienced enormous problems. Out of 13 rallies, they took only three, which Azarenka and Haddad-Maia took advantage of. They converted all three break points and took the lead in games.
The swing continued in the second set. True, the Russian-German couple began to act much more calmly at key moments and did not allow their opponents liberties. Again, there was a lost serve, but Azarenka and Haddad-Maya had to put in a lot of effort to achieve this. Zvonareva and Siegemund fought off four out of five break points, while they themselves took advantage of two out of eight chances. And in the 11th game they staged a real thriller. They led 40:0 at the reception, lost three plays in a row, but pulled themselves together and still achieved success. And then they took the set.
Also on topic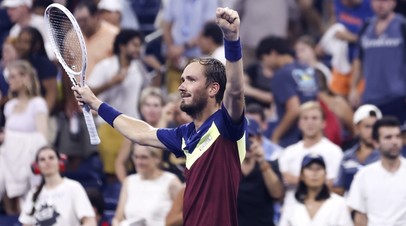 Meeting each other: Medvedev and Rublev reached the quarterfinals of the US Open, Kasatkina lost to Sabalenko
Daniil Medvedev and Andrei Rublev made it to the quarterfinals of the US Open, where they will play each other. Third…
The debut of the third game also went to Zvonareva and Siegemund. But if in the previous game they immediately took the game at the reception, this time they succeeded on the second try. And they didn't miss theirs. They were only one step away from losing serve, but they got out of a difficult situation and held the advantage – 5:7, 7:5, 6:4. At the same time, they spent as much as 3 hours and 13 minutes on the court. The Russian and German will compete with Jennifer Brady and Louise Stefani for a ticket to the final.
In junior singles tournaments, the Russian representation was reduced to one person. Previously, Daniil Panarin sheathed his racket, and now the first seeded man Yaroslav Demin. He was considered the clear favorite in the confrontation with Federico China, but suffered a sensational defeat. The 18-year-old Muscovite found himself in the role of catching up, managed to level the situation, and in the third game he led with a break, but was unable to finish what he started. It came down to a shortened game, where the domestic tennis player had two match points, but still faltered – 3:6, 6:3, 6:7 (8:10).
But Anastasia Guryeva made her way further. The Russian made 52 unforced errors and seven double faults, but still broke the resistance of Valerie Glozman in three sets. In the final, the American lost twice with a difference of two games and was on the verge of failure, but miraculously caught up with her opponent. However, this could not continue forever – 6:3, 5:7, 7:5.