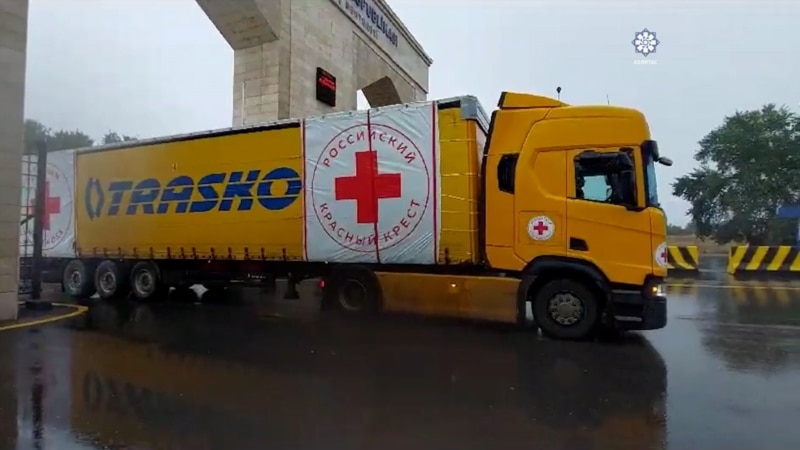 The leadership of Nagorno-Karabakh (Armenian name is Artsakh) announced that it had reached an agreement with the Azerbaijani authorities on the supply of humanitarian aid to the region. It will be delivered from Russia through the Red Cross under the control of Russian peacekeeping forces. The first trucks should leave for Nagorno-Karabakh today, September 10.
According to both the Azerbaijani and Armenian services of Radio Liberty, the road through the Azerbaijani city of Agdam will be used for transportation. Assistant to the President of Azerbaijan Hikmet Hajiyev clarified that transportation through Agdam is regulated by a separate agreement. The possibility of opening the Lachin corridor for humanitarian supplies, the only one connecting Nagorno-Karabakh with Armenia, is also being discussed.
Khadzhiev said that all checkpoints and checkpoints at the entrance to Nagorno-Karabakh continue to operate, and all humanitarian cargo will be required to clear customs in accordance with Azerbaijani rules.
A day earlier, on Saturday, the parliament of Nagorno-Karabakh elected Samvel Shahramanyan as the new head of the self-proclaimed republic. Azerbaijan called this decision "fictitious and illegal" and demanded the dissolution of the parliament.
The Lachin corridor, the only route from Armenia to Nagorno-Karabakh, has been blocked since June 15. The humanitarian situation in the region is close to critical: there is a shortage of food, fuel and medicine. Karabakh residents report that they are on the verge of starvation; due to the lack of gasoline, transport is not working.
Azerbaijan denies accusations of a blockade. Baku accused Yerevan of transferring military personnel to the territory of the self-proclaimed republic controlled by the Armenian authorities, transporting weapons and ammunition, and illegally exporting natural resources and cultural values ​​from the territory of Azerbaijan.
The territory of Nagorno-Karabakh is considered part of Azerbaijan under international law. The region's population is predominantly ethnic Armenians. Since the early 1990s, Baku has not controlled most of the region. Representatives of the Armenian community proclaimed an independent republic, which was not recognized by any of the countries, including Armenia. Following the results of a short-term war in the fall of 2020, Azerbaijan and Armenia, through the mediation of Russia, signed an agreement on the cessation of hostilities. Under the treaty, which provoked opposition protests in Yerevan, Baku regained control of a significant part of the territories of Karabakh and the adjacent regions of Azerbaijan, occupied by Armenian troops in the early 1990s. Russian peacekeeping forces were stationed in the region.