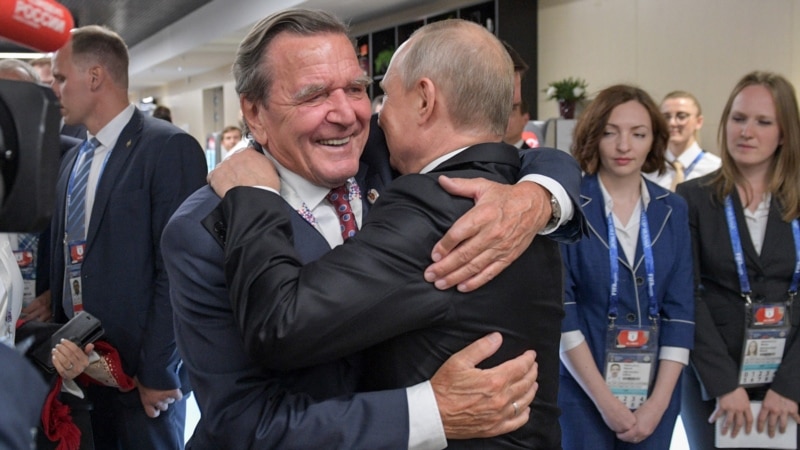 The branch of the Social Democratic Party of Germany (SPD) in Hannover, after much debate, decided to hold a gala evening in honor of the former Chancellor of the Federal Republic of Germany Gerhard Schröder. A closed event dedicated to the 60th anniversary of Schröder's membership in the ruling party will be held on October 27, Stern writes.
According to the publication, about 50 guests will be invited to the celebration, including close friends of the ex-chancellor and former members of his cabinet. Schröder will be presented with a commemorative badge and a certificate, which will be signed by the chairmen of the SPD (this is a common procedure for such events). The deputy chairman of the SPD parliamentary faction, Matthias Miersch, and the former mayor of Hannover, Herbert Schmalstieg, will give a welcoming speech.
According to Stern, the local branch of the party debated for a long time whether it was worth holding a ceremony in honor of Schröder, given his friendship with Vladimir Putin. After Russia launched a full-scale war against Ukraine, Schröder did not cut off his personal contacts with Putin and did not make any public statements condemning his actions.
Already during the war, Schröder traveled to Moscow several times. The former chancellor met there with the Russian leadership, including Putin, and discussed economic policy issues, primarily the export of Russian oil and gas to Europe. For this he was subjected to severe criticism in Germany.
In 2022, 17 regional SPD organizations initiated the expulsion of Schröder from the ruling party in Germany. However, a special commission of the SPD organization in Hannover concluded that the politician did not violate the party charter.
In May 2022, the former chancellor was stripped of a number of privileges in Germany.
Gerhard Schröder is 79 years old. He was Chancellor of Germany from 1998 to 2005. From 1999 to 2004 he served as chairman of the Social Democratic Party of Germany. After his resignation, he participated in projects related to Russia, including the Nord Stream gas pipeline, and was elected chairman of the supervisory board of Rosneft. Last spring, Schröder left this post on his own initiative. Shortly before this, the European Parliament discussed the possibility of adding him to the sanctions list of Russian oligarchs.