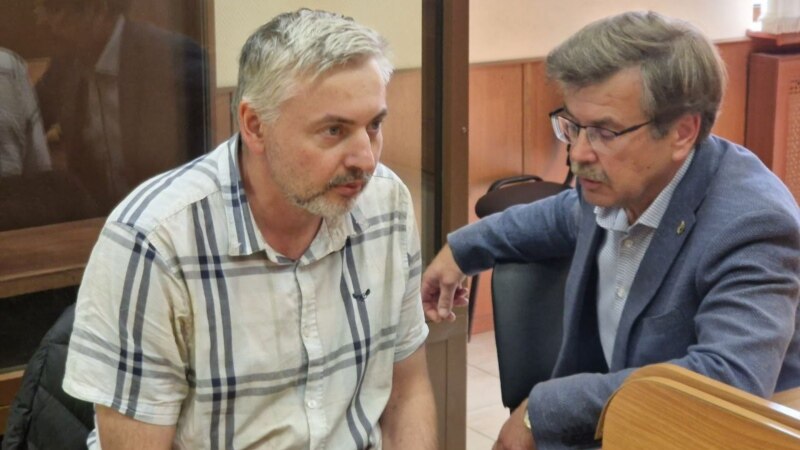 The Babushkinsky District Court of Moscow arrested for two months, until November 6, volunteer Evgeny Mishchenko, who was on duty at the Nemtsov Bridge, in the case of "justifying terrorism on the Internet" (Part 2 of Article 205.2 of the Criminal Code of the Russian Federation). Mediazona reports this.
The court was supposed to choose a preventive measure for Mishchenko a day earlier, on September 13, but the hearing was postponed to Thursday: the volunteer said that during his arrest the security forces beat him, and his lawyer Nikolai Fomin demanded that his client be hospitalized.
During examination at the emergency room, it turned out that Mishchenko had three broken ribs. He was kept in hospital overnight and taken to court today.
The activist was charged with collaboration with the Freedom of Russia Legion. He admitted his guilt, saying that he did "get in touch with this organization."
According to Avtozak LIVE, Mishchenko was detained on September 11.
Evgeny Mishchenko regularly monitored the safety of the memorial to Russian politician Boris Nemtsov on the Bolshoy Moskvoretsky Bridge in Moscow, where he was killed on February 27, 2015. In July of the same year, five people were convicted of murdering a hired politician as part of an organized group, but the client was never found.
Moscow authorities have repeatedly tried to liquidate the memorial at the site of Nemtsov's murder, but they continue to restore it.
After the start of Russia's full-scale invasion of Ukraine, the number of cases of "justification of terrorism on the Internet" increased significantly. One of the latest high-profile cases of "justification of terrorism" was brought against theater director Evgenia Berkovich and playwright Svetlana Petriychuk. The reason for initiating a criminal case was the play "Finist Yasny Falcon" by Berkovich. Its plot is based on the story of women who decided to marry Islamic militants and go to Syria.
The fine under this article varies from 300 thousand to one million rubles. The maximum penalty is imprisonment for a term of up to seven years.