The American space agency NASA on Thursday announced the appointment of a new program director for the study of "unidentified anomalous phenomena." The name "unidentified flying objects", UFOs, is widely accepted in the world.
NASA Administrator Bill Nelson told the expert group about the need to collect more facts in this area. To date, "no evidence of the extraterrestrial origin of such objects has been found," stated the head of the American space agency.
According to Reuters, Nelson did not disclose the name of the head of the research program. An independent panel of experts previously recommended that the space agency increase its efforts to collect information about unidentified anomalous phenomena and better help the Pentagon identify the nature of these phenomena.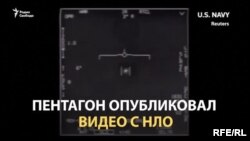 "Unidentified Aerial Phenomena"
The US government has made public several times over the past few years the information it has been able to gather about UFOs. In previous times, such information did not cause any official reaction from the authorities. In 2021, the government released a report compiled by the Office of the Director of National Intelligence based on reports from a Navy-led task force on sightings of unidentified anomalous phenomena.
"NASA's mission is to uncover the mysteries of the unknown. Whatever we discover, we intend to inform the public about our discoveries," Nelson said. He promised transparency of the results of studying anomalous phenomena.