Pyotr Pashchenko did not make a single mistake on the shooting range and became the winner of the sprint at the Russian Roller Ski Biathlon Championship. Eduard Latypov missed one target, but was close to taking gold – he was 2.3 seconds short. The top three were closed by Anton Babikov. In a similar race among girls, first place was taken by Elizaveta Kaplina, who was 1.7 seconds ahead of Anastasia Goreeva. Irina Kazakevich made a good breakthrough on the last lap, making one more mistake in shooting than her rivals. She played back almost 15 seconds, but in the end was content with bronze.
Return of Nigmatullina and Reztsova
For the second week in a row, Russian biathletes continue to delight fans with their performances. True, for now on roller skis. After the first stage of the Commonwealth Cup in Sochi, almost all domestic athletes went to Tyumen for the national championship.
They were also joined by athletes who decided to skip the start of the international tournament. In particular, fans were looking forward to the return of two young mothers – Ulyana Nigmatullina and Kristina Reztsova. Both took to the start of the sprint race on Saturday. However, they were unable to show any serious results, finishing in tenth and 22nd places, respectively.
Moreover, the girls had problems at the distance: Nigmatullina did not miss even once, but was 1:19.4 behind the winner, and Reztsova, with two missed targets, lost by almost 2.5 minutes, although previously she still claimed awards with such shooting. However, according to Christina, she is not chasing medals yet.
Also on topic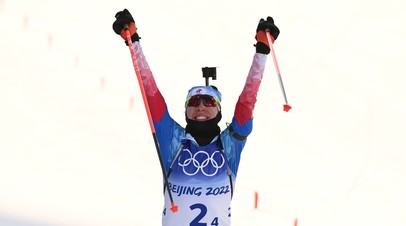 "I just like my life": Nigmatullina – about returning to biathlon, having a child and depression after the Olympics
After resuming your career, there is no point in setting yourself goals to achieve specific results. She stated this in an interview with RT…
"I started training, one might say, on August 1st. A month and a half has passed. I got into a rhythm normally. Before that, I really wanted to exercise, then I started: one thing would hurt me, then another. Let's just say, I didn't allow my body to recover after childbirth, and this is no joke. That's why now I came to get high," Match TV quoted Reztsova as saying.
Victoria Slivko has completely different goals at the Russian Championship. In Sochi, she collected a set of medals, winning gold, silver and bronze. Therefore, in Tyumen, the biathlete expects to get on the podium.
"Let's just wish for some personal medal. In any case, I will try to show good results, because the championship is taking place on my home track, on my home soil. We'll try," the biathlete promised.
Alas, she failed to do this in the sprint, although Victoria was very close to the goal. The athlete finished fourth with one penalty and 12.9 seconds behind first place, which was unexpectedly taken by Elizaveta Kaplina, who also made a mistake on the shooting range.
This result was a surprise primarily because the winner of the sprint did not perform well at the Commonwealth Cup a week ago. True, then it was her shooting that let her down – in three races the girl missed 17 targets, while confidently getting into the top 5 with her move.
"Here I was mainly focused on working on the firing lines, but my speed didn't let me down either… The first miss was my weakness and mistake. I always start quickly, don't concentrate, and then start working. Hurry up. And at the stand I concentrated more on shooting, and was even a little quiet. And I hit everything," admitted Kaplina.
Elizaveta was only 1.7 seconds ahead of Anastasia Goreeva, who started in third place and whose time was the benchmark for the other girls. The biathlete was unable to perform the prone position cleanly without hitting the clearance with one shot. Nevertheless, she covered the distance at a good pace. But in this case, Kaplina had an advantage over her opponent, since she was led by her opponent's result.
"This is probably a good result. I had a tactic – I wanted to psychologically knock someone out by the fact that they were already losing during the acceleration. She ran with reserves, prepared to shoot. Unfortunately, I missed the last shot and was in a hurry. All-in was already on the last lap, but there was not enough strength. So far I feel in good shape. I hope there will be enough for two more races. The mood is fighting," Goreeva noted.
Once again Irina Kazakevich demonstrates miracles on the track. On Saturday she was the fastest among her compatriots, but her shooting let her down again. This time, the representative of the Sverdlovsk region made two mistakes and went into the last lap with a gap of 22.7 seconds behind Kaplina and Goreeva, also losing to Slivko and Tamara Derbusheva. However, 600 meters before the finish she even had a chance of winning: she was only eight seconds behind. The biathlete failed to make another breakthrough at the very end. In the end – only bronze.
"Overall a good result. Of course, it was possible to beat off these seconds somewhere. There is probably dissatisfaction here somewhere. Shooting can always be better. With one penalty today one could dream of victory. The weather is very cool. They probably brought it with them from Sochi," Kazakevich said.
Health problems of Serokhvostov and Loginov
On the men's side, in the absence of Belarusian Anton Smolsky, everyone was expecting a fight between Eduard Latypov and Daniil Serokhvostov, who missed the starting stage of the Commonwealth Cup due to illness. As it turned out, the athlete was not able to fully recover for the races in Tyumen. He started the sprint, but showed only 24th result.
"I feel terrible at every workout, I have no strength, no energy. I think the July illness dealt a strong blow to the central nervous system and the body as a whole, two or three months have passed, and I'm lethargic," Serokhvostov admitted.
Also on topic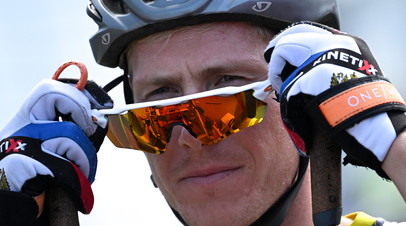 "I feel like a little test subject": Povarnitsyn – about the peculiarities of self-preparation, Loginov's help and tasks for the season
Biathlete Alexander Povarnitsyn said in an interview with RT that, being self-trained, he feels to some extent like a test subject…
At the same time, according to coach Artyom Istomin, Daniil generally has problems with immunity after he had coronavirus. Alexander Loginov also cannot prove himself. In Sochi, he ran only one race, and in the sprint in Tyumen he became 21st, although he made only one mistake – the biathlete was again hampered by injury.
"We had four days between starts. For three days my neck was jammed, the first day I was at least twisting my head," explained the ex-world champion.
Surprisingly, even in such a situation, Latypov failed to win the race. Eduard made a mistake on the bench and went into the last lap 17.9 seconds behind Pyotr Paschenko, who cleared all the targets, and 5.9 seconds behind Anton Babikov, who also worked well on the shooting range. It was not difficult for Eduard to beat the 2017 world champion in the relay in the finishing protocol, but the three-time bronze medalist of the Beijing Olympics still could not catch up with the leader. He missed only 2.3 seconds.
"The last descent was a little flawed. They said: the lag is three seconds, I seemed to have turned on, but I understand that I could have done it even stronger. I thought that was enough. There were little things that could have affected today's race. I don't know if I would have played it back or not, but I would have been very close. At least I would do my best. Apparently, I didn't work half a percent," explained Latypov.
Pashchenko, who turned 32 this year, in turn, admitted that he was even thinking about ending his sports career. But after the success in Tyumen, now he will definitely compete again.
"I had the motivation to work out zero, because in the summer I conducted one of the shooting tests here, which completely failed. Then I told the guys and the coach: if I don't shoot zero in any race in two summer stages, then I'll definitely give up. I kept my word – now I can run further," admitted Peter.
Babikov positively assessed third place in the sprint. According to him, this is a very difficult race.
"I managed the shooting with an A, I didn't delay a single shot, everything turned out clearly and quickly. Well, I didn't feel ideal along the route, despite the fact that I expected the worst. But I can't rate this kind of running as a five. Therefore, four is a very good result," added the biathlete.