In the Libyan city of Derna, at least 11,300 people died during the floods, and 170 are known to have died in other parts of the country. This was reported by international media with reference to a report by the UN Office for the Coordination of Humanitarian Affairs.
According to the organization, another 10,100 residents of Derna are still missing. Before the disaster, about 100,000 people lived in the city. Earlier, the mayor of the port city of Derna, Abdulmenam Al-Ghaiti, said that about 20 thousand residents died there, their bodies have simply not yet been found, and they are listed as missing. According to Sky News Africa correspondent Yusra Elbagir, at least 20% of Derna's population are dead or missing.
The UN report also says that due to the flooding, at least 40 thousand people, including 30 thousand residents of Derna, were forced to relocate to the northeast of the country. The organization noted that along the way, residents of the affected areas are threatened by anti-personnel mines and other ammunition that was washed out of the soil and carried away by water.
The UN added that almost 300 thousand children were affected by the floods. They are at increased risk of contracting dysentery, cholera, or experiencing malnutrition.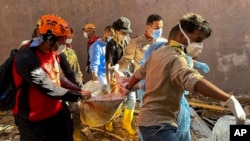 Ibrahim al-Arabi, environment minister for the Tripoli-based government of national unity, said people were being urged to stay away from wells. According to him, the number of cases of poisoning of children due to contaminated water has increased to 150.
Flooding in the country was caused by the powerful Hurricane Daniel. As a result, two dams burst. In Derna, entire neighborhoods were washed away into the sea. The UN said most of the casualties could have been avoided if Libyan authorities had timely assessed the level of threat and begun evacuations.
Experts had previously warned about the possibility of flooding, but there was no reaction from the regional authorities to this. This may be due to the fact that the 2011–2020 civil war left Libya divided between two warring governments. But none of them took up the task of strengthening the infrastructure of Derna.