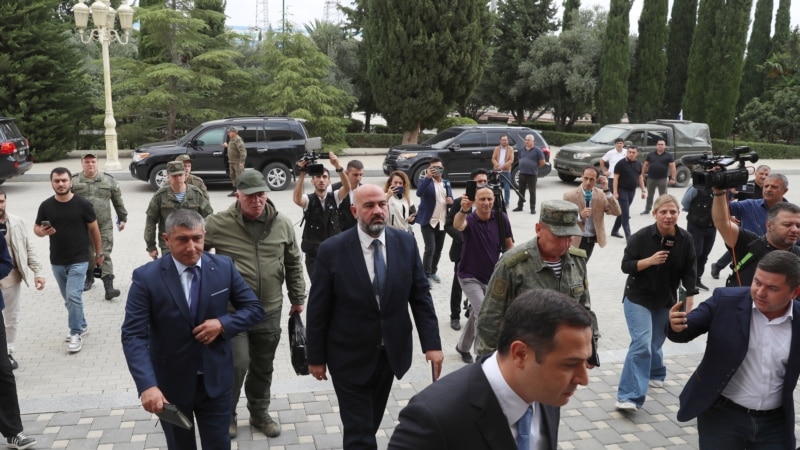 A delegation of Armenians from Nagorno-Karabakh arrived in the Azerbaijani city of Yevlakh to participate in negotiations with representatives of the Azerbaijani authorities. According to the Azerbaijani Trend agency, the Armenian delegation is accompanied by Russian military personnel.
Earlier it was reported that the meeting would discuss "issues raised by the Azerbaijani side" on the reintegration of the Armenian community of Karabakh, as well as issues of ensuring the livelihoods of the population of Nagorno-Karabakh within the framework of the Constitution of Azerbaijan."
Most likely, this means that in the foreseeable future the entire territory of the former Soviet Nagorno-Karabakh region will come under the control of Baku.
The negotiations were announced yesterday after representatives of the self-proclaimed Nagorno-Karabakh declared a ceasefire. The message was confirmed by the Azerbaijani Ministry of Defense. The authorities of the self-proclaimed republic actually agreed to all the demands of the Azerbaijani side, which demanded that they disband the military.
According to RBC, representatives of Azerbaijan handed over to the authorities of Nagorno-Karabakh a named list of people who should be transferred to Baku before the opening of a humanitarian corridor to Armenia. Among them are former leaders of the unrecognized republic, as well as government and military leaders, writes the Armenian newspaper Hraparak, citing sources.
Protests continue in Armenia against the government's decision not to resist the Azerbaijani army in the unrecognized republic of Nagorno-Karabakh (Armenian name is Artsakh).
On September 19, the Azerbaijani army announced a military operation in Karabakh with the goal of "restoring the constitutional order." Attacks on targets of the Armenian and Karabakh armies were reported. Yerevan denies the presence of its military in Karabakh. The Kremlin, commenting on the events in Karabakh, stated that "de jure we are talking about Azerbaijan's actions on its territory." Press Secretary of the Russian President Dmitry Peskov called Yerevan's accusations of Moscow's inaction groundless. The territory of Nagorno-Karabakh is considered part of Azerbaijan under international law. The region's population is predominantly ethnic Armenians. Representatives of the Armenian community proclaimed an independent republic, which was not recognized by any country, including Armenia. As a result of the short-term war, in the fall of 2020, Azerbaijan and Armenia, through the mediation of Russia, signed an agreement to cease hostilities. Baku has regained control of a significant part of the territories of Nagorno-Karabakh and adjacent regions of Azerbaijan, occupied by Armenian troops in the early 1990s. Russian military personnel were stationed in the region.