Russian billionaire Roman Abramovich and his ex-wife Daria Zhukova owned a collection of 369 pieces of art with a total value of $962 million as of 2018 alone, journalists from Important Stories and The Guardian found out after studying leaked files from the Cypriot business registrar MeritServus.
The collection contains dozens of masterpieces: Francis Bacon, Pablo Picasso, Lucian Freud, Alberto Giacometti, Claude Monet, Rene Magritte and others. The fate of many paintings from the collection remained a mystery for many years. For example, about the "Suprematist Composition" (1919–1920) by Kazimir Malevich, all that was known was that it was auctioned in 2000 for $17 million to an anonymous buyer. And already in 2013, the picture began to belong to Abramovich, as follows from the leak.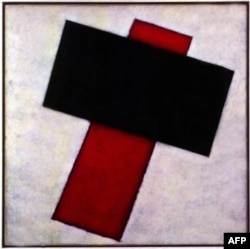 Kazimir Malevich, "Suprematist Composition" (1919–1920). Estimated cost – $54.6 million
The collection is owned by the offshore company Seline-Invest, located on the island of Jersey. It, in turn, is controlled by the Cyprus trust Ermis Trust Settlement established by Abramovich. At the beginning of 2021, after the divorce, Abramovich and Zhukova divided the beneficial shares in the trust in half, and three weeks before the start of the full-scale Russian invasion of Ukraine, Abramovich conceded 1% to his ex-wife, and the ratio of shares became 51% to 49%. As Important Stories highlight, in some countries this scheme reduces the risk of assets being seized if the 49% beneficiary falls under sanctions.
Less than a month later, Abramovich actually found himself under sanctions from the European Union and Great Britain. His assets were frozen, but his collection of world art masterpieces was left untouched. Where she is is unknown. Because of this probable attempt to hide the paintings from sanctions, the paintings, which were not often exhibited anyway, were lost to the public for a long time. For example, when the first exhibition of Lucian Freud's work in 10 years opened at the British National Gallery in October 2022, several of his iconic paintings, owned by the Abramovich-Zhukova trust, were missing from it.
Art market experts agree that the situation with the concealment of a huge collection of paintings can be considered tragic. Because of Abramovich's investments, people actually "lost the opportunity to see some of the greatest works of our time," says Georgina Adam.
"This is an amazing collection that could fill a museum alone. It is tragic that unless a solution is found this collection will remain invisible for a very long time," said Andrew Renton, professor at Goldsmiths College, University of London. .