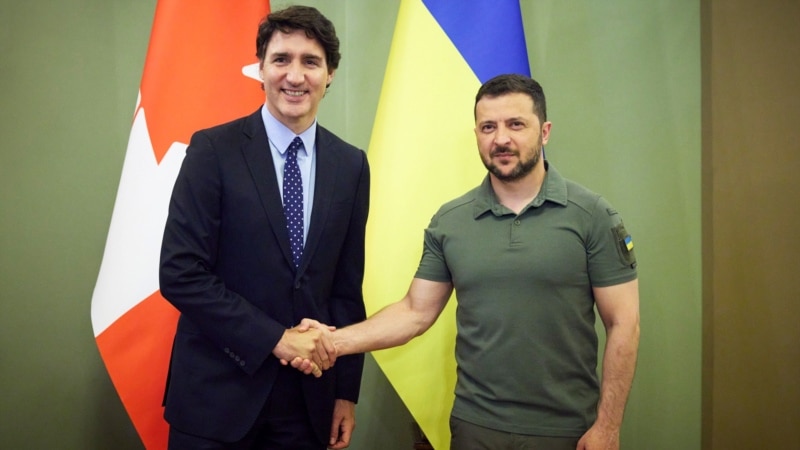 During his visit to Canada, President of Ukraine Vladimir Zelensky spoke on Friday in the parliament of this country. House of Commons MPs and senators gathered for a rare joint session repeatedly interrupted his speech with applause. Zelensky thanked Canada for its support in the fight against Russian aggression. He also again accused Russia of trying to commit genocide on Ukrainian territory.
Canadian Prime Minister Justin Trudeau, who spoke to Zelensky, said that over the next three years, Ottawa will provide military assistance to Kiev in the amount of 650 million Canadian dollars (about 485 million US dollars). In particular, Ukraine will be supplied with 50 armored vehicles, as well as Leopard-2 tanks. In addition, Canadian pilots will take part in training Ukrainian pilots on F-16 fighters.
Earlier, Zelensky held talks with Trudeau and members of the Canadian government. According to the President of Ukraine, the issue of possible confiscation of Russian assets in the country was also discussed. Canada is among the countries that most consistently support Ukraine. Since the start of the large-scale Russian invasion, Canada has provided more than $7 billion in military aid to Kyiv, as well as imposed numerous sanctions.
Canadian CTV claims that the country's authorities should announce an expansion of the sanctions list against Russia during Zelensky's visit.
Zelensky also met with the Governor General of Canada, Mary Simon, who represents her monarch, the British King Charles III, in the country. The President of Ukraine is accompanied on the trip by his wife Elena.
Zelensky arrived in Canada from the United States; the visit was not announced in advance. In the United States, the President of Ukraine met with the country's leaders, including President Joe Biden, mainly discussing arms supplies. He also spoke at the General Assembly and the UN Security Council.