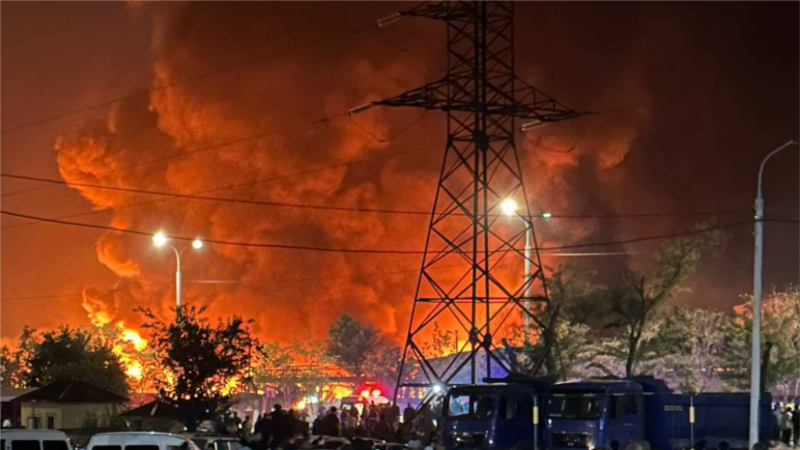 A powerful explosion occurred on the night of September 28 in the capital of Uzbekistan, Tashkent, near the local airport. Windows in nearby houses were broken. The fire covers a large area. There are casualties, but their number is not reported. Telegram channels write about at least one death.
According to the Ministry of Emergency Situations of Uzbekistan, an explosion occurred in warehouses in the Sergeli district of Tashkent, and a fire started there. The warehouses, according to the department, belong to the Inter Logistics company.
Tashkent International Airport named after Islam Karimov belongs to the Sergeli district. "Fake news is being spread on some social networks that the incident in the Sergeli region "occurred as a result of a plane crash." This is absolutely untrue," the Ministry of Emergency Situations of Uzbekistan emphasized.
The Ministry of Internal Affairs of Uzbekistan clarified that the cause of the fire in Tashkent was an explosion in a warehouse where electric vehicles and components for them were stored.
The explosion occurred around 02:55 local time (01:55 Moscow time). Telegram channels publish footage showing the glow from the fire, followed by a flash. A column of smoke rises from the site of the fire.
16 fire brigades were sent to the site of the fire. The Ministry of Health of Uzbekistan reports casualties, but does not specify their number. The wounded are taken to hospitals. Doctors are providing assistance to residents of houses located near the warehouses; they are being evacuated.
Eyewitnesses report a large number of casualties, writes Baza. According to the telegram channel, at least one teenager is known to have died: a 17-year-old boy was sleeping by the window and a shrapnel flew into his neck. Also, according to Baza, at least five children are known to have been injured – they were cut by shrapnel. They are currently in hospitals.
According to local residents, windows in buildings were broken by the shock wave and doors were damaged. The wave was felt by residents of Nurafshan, a city south of Tashkent about 30 km from the epicenter of the explosion. Firefighters and security forces arrived at the scene, and convoys of ambulances are also arriving there, Nova24 reports. National Guard units were brought in to eliminate the consequences of the explosion.
According to Mash, batteries for electric vehicles exploded at the airport warehouse and the warehouse was destroyed by the shock wave.
By 04:02 Moscow time, the fire was localized, and the fire area began to shrink. A headquarters has been formed near the site of the explosion, and a special laboratory of the Ministry of Emergency Situations is working to determine the cause of the incident.