On September 29, 2023, the premiere of the play based on Mikhail Bulgakov's play "Ivan Vasilyevich" took place at the Moscow Academic Theater of Satire. The comedy was first published in 1965 and formed the basis for the script of Leonid Gaidai's famous film "Ivan Vasilyevich Changes His Profession."
"In 1934, Mikhail Afanasyevich Bulgakov wrote this play specifically for the Satire Theater. Then it was not possible to install it for various reasons. And we decided to do it. We can say that we are restoring historical justice," production director Sergei Gazarov told RT. In the play he also plays the role of Anton Semyonovich Shpak.
Ivan the Terrible and the house manager Bunshu are played by People's Artist of Russia Yuri Vasiliev. In a conversation with RT, he noted that the play raises the topical topic of responsibility of the artist and inventor for what he has done, which is relevant in our time.
"For example, artificial intelligence, which everyone is busy with today. This is probably wonderful. But there is also a risk. You need to be very careful about this, have a presentiment of what will happen," Vasiliev said.
Actor Ilya Malakov, who plays inventor Timofeev, shared with RT that the film "Ivan Vasilyevich Changes His Profession" is one of his favorites.
"It would be ridiculous to say that everything is different in our performance. But this is how I look at it. Our compatriots have made great cinema. And we can transfer this play to the stage and open it to the viewer from a different angle," he said.
Ilya Malakov considers the main character in the play to be a time machine, and the image he created for the role of the inventor echoes the image of the brilliant but asocial professor Emmett Brown from the film "Back to the Future."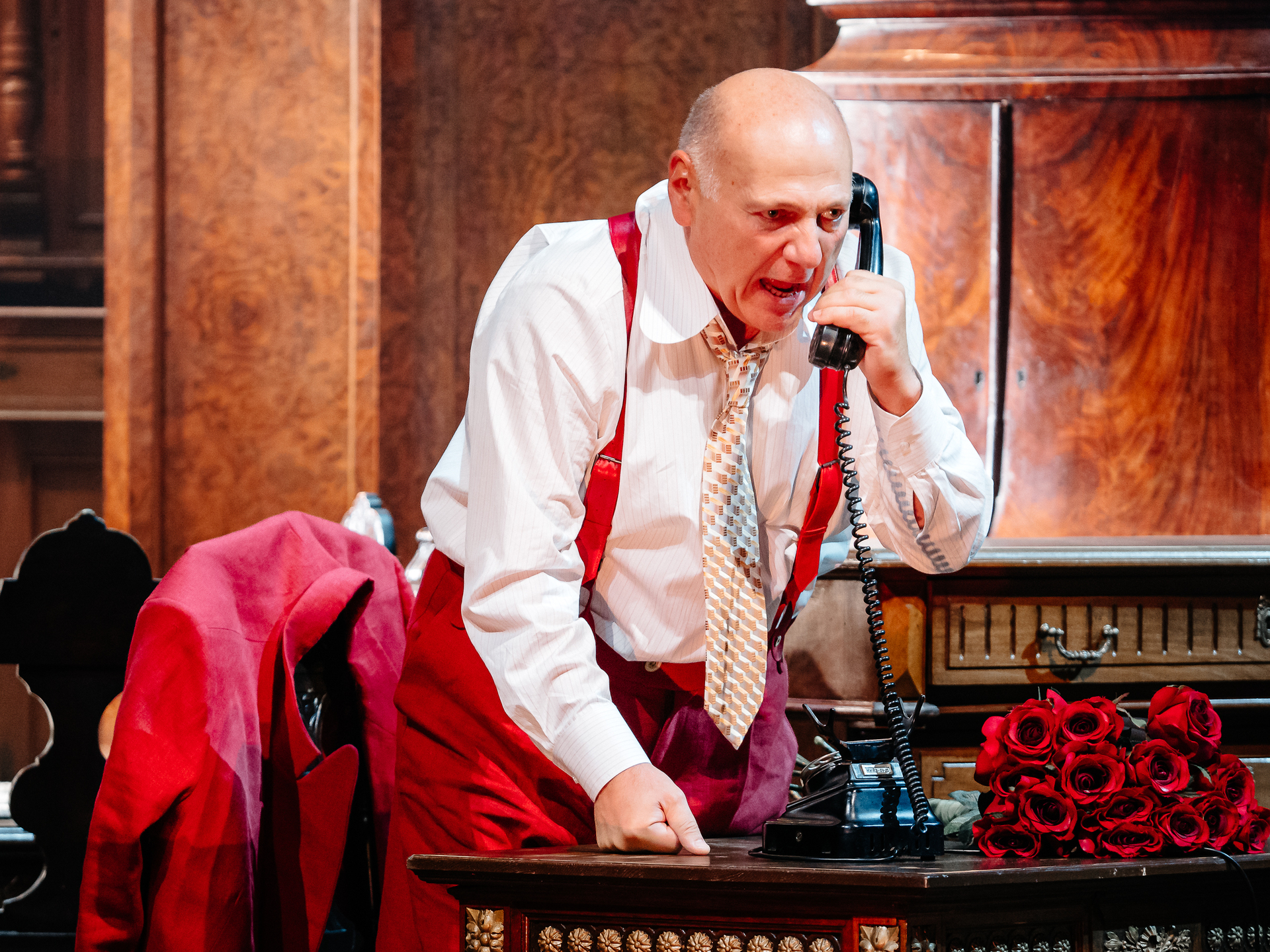 Scene from the play "Ivan Vasilyevich". Actor and theater director Sergei Gazarov in the role of Anton Semyonovich Shpak © Press service of the Satire Theater
Sergei Gazarov shared that next season another play by Bulgakov will be staged. But which one he kept a secret for now.
Earlier it was reported that the Vakhtangov Theater in Moscow announced a new, 103rd season.