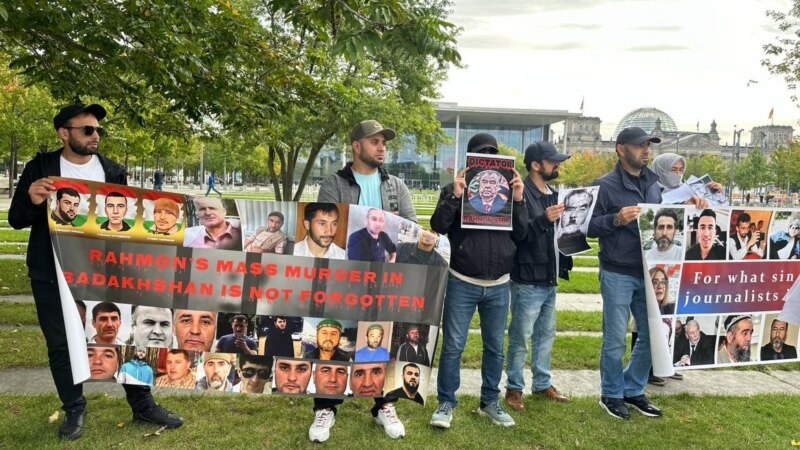 Tajik oppositionists living in Europe announced the detention of their relatives in Tajikistan after a protest rally they held in Berlin on September 29, during the visit of President Emomali Rahmon to Germany.
Opposition leader Sharofiddin Gadoev said that Tajik security forces detained his 72-year-old mother Oishamo Abdulloeva. "When they took her away, they angrily asked her why your son calls Janobi Oli (leader of the nation) a dictator, why he threw eggs at the president's car in Berlin, can't he really live in peace?" – he told the Tajik service of Radio Liberty.
In August, Tajik security forces already came to Gadoev's mother. They asked her about the whereabouts of the oppositionist and her two other sons, who are now in Russia. Gadoev connected the security forces' visit to his mother with his activities and position on the war unleashed by Russia against Ukraine.
Other representatives of the Tajik opposition in Europe previously announced the detention and interrogation of relatives. Group 24, banned in Tajikistan, claims that security forces detained the father and six other relatives of group member Dilshod Sharifov, as well as relatives of Ismoil Makhmadov, Jamshed Sharifov, Bekhruz Tagoyzoda and Muhammadjon Abdulloev.
Oppositionist Farkhod Odinaev said that his nephew was detained in Gissar. "The security forces came to our home and wanted to take my elderly mother away, but then the choice fell on my nephew. They told my mother why they (opposition representatives abroad) would not calm down, why they threw eggs at Janobi Olya's car," Odinaev said.
How long the relatives of the opposition activists were detained and whether they were released is still unknown.